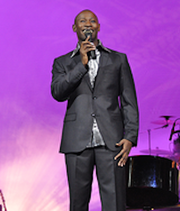 Nyol Manswell
Biography
To be spiritually in tuned! To love! To be willing to work hard! To live for humanity!

Nyol Manswell was born On the 14th of May 1988. He was born to Mr. and Mrs Lionel and Eldeca Manswell. At three years old however, the Father and only breadwinner in the family died. Mrs. Manswell was now left with eight children to take care of. She pushed her Children to do their best at all times. She told them to always hold their heads high and walk with ambition and a continuous sence of purpose.
"These words are what kept me going through the tough times. I want to do well for my mother. She worked very hard to make sure her children achieved some success in this life".
At the age of nine Nyol had to leave Tobago and the comfort of his family to give himself a chance at a better education at the School for blind children in Santa Cruz Trinidad. Prior to this he went to the Pembroke Anglican School Where the teachers tried their best to work with a visually impaired student who was very willing to work. Much thanks to them: because it is through the fact that the teachers at the Pembroke Anglican school realizing that for Nyol to continue school there would be a waste of his abilities that plans were initiated for Nyol to go to Trinidad. At the School for blind children Nyol excelled in all the subject areas that are taught to the Children that attend the school. These subject areas are Braille, Mobility training and Daily living skills. Nyol also began to take his music to a more serious level. He sang as a young child, but the School for Blind Children provided the environment for Nyol to push on. After a few years at the School for Blind Children Nyol was integrated into the main streem system. He went to the Bourg Mulatrasse R.C. School where he wrote S.E.A., and passed for the San Juan Secondary Comprehensive School.
At the San Juan Secondary Comprehensive school Nyol Took three years to complete his O. Level Exams. He did very well in Form one, and on the recommendation of his teachers he skipped Forms two and three. At the end of it all Nyol finished with 1's and 2's at O. levels and also went on to be one of the first blind children in the Caribbean to write A. levels [CAPE] using a laptop computer. This was done using the various pieces of adaptive technology that are developed for visually impaired people. Needless to say: Nyol gave the Valedictorian speech in the year that he graduated.
While all of this was going on at school, Nyol met up with the bird song academy. The Academy is an off shoot of the bird song pan side that at the time placed emphasis on music literacy for developing musicians in Trinidad and Tobago. How exactly was Nyol supposed to fit in here? No one knew. The staff at birdsong did not say no though. They imparted musical knowledge as best as they could, and it was received as best as could be received. Rafiel Robertson came on the Program and became a mentor to Nyol. Raf became key to Nyols development as a musician. Raf and birdsong took Nyol to a place where he could apply to Berklee for a place at the school, and Nyol got in. He also received a part scholarship from Berklee. The other part of Nyol's funding came because the board of the Sports and Culture fund in the Prime Minister's office recognized and up and coming ambassador for Trinidad and Tobago.
In January of 2010 Nyol left Trinidad to take on the challenge of the rest of his life. In his first semester he was already performing at the Berklee Performance centre. In his second semester he performed one of his own pieces at one of the school's big shows. The audience was moved to tears after this performance. Nyol is still hailed by both students and teachers as one of Berklee's stars of tomorrow for it.