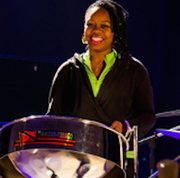 Alisha Wallace
Biography
I am working towards becoming a Forensic Pathologist, which is career goal since the tender age of 14 years and an occupation for which there is a demand for professionals in our country.  I have undergone two years of training at the Forensic Science Centre (Pathology Department) through the On-the-Job-Training Programme. I feel honoured to have had the opportunity to work under the supervision of our country's pathologists; Dr. Hughvon des Vignes, Dr. Eslyn McDonald-Burris as well as Dr. Valery Alexandrov. I have gained a wide range of knowledge and experience, which have equipped me with skills essential for daily life, and tertiary-level studies.
Becoming a Forensic Pathologist requires at least ten (10) years of study. I am one of two Trinidadian students currently studying medicine at the Tbilisi State Medical University in the Former Soviet country of Georgia. Graduating as a doctor is carded for January 2018, at age 32 years. After this, I have to study Pathology for 4yrs and Forensic Pathology for another 1yr before earning the title of Forensic Pathologist. This is not counting the time needed for practice after each level.
 I am a go-getter. Despite the many challenges I've faced, I never make excuses. I believe each obstacle prepares me for future life. I carry all to God in prayer and I'm thankful and humbled to be surrounded by family, friends and well-wishers. Their continuous words of encouragement keep me keeping on. 
Although I'm career oriented, I'm also family driven.  I've always dreamt of having a family of my own. Blessings come in all shapes and sizes. I am extremely patriotic about Trinidad and Tobago and use every opportunity to promote our culture, especially through music, dance, steel pan, our history and displaying the red, white and black.
 I am passionate about this career, my family  and my country.